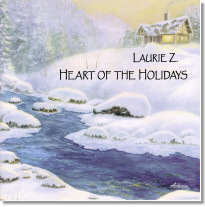 Heart of the Holidays - Music CD
Touching the heart with music, Heart of the Holidays is a celebration of the season. Included are creative new interpretations of the traditional Chanukah songs "Mo'oz Tsur" and "Sivivon." Two original numbers written and performed by Laurie Z., "Heart of the Holidays" and "Warmth From Within" easily hold their own next to the traditional songs we all know by heart. Playful touches are included, like special guest, late actor Jack Palance singing "I Saw Mommy Kissing Santa Claus," topping it all off with Jack Palance's delightful reading of "The Night Before Christmas."
Perfect gift to give with the Heart of the Holidays book by Sheryl Roush!