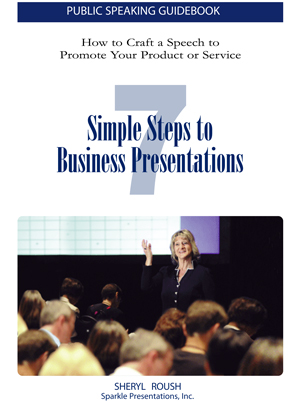 Sheryl Roush is a veteran of public speaking, a top-rated international communication skills presenter, an Accredited Speaker as honored for outstanding platform professionalism by Toastmasters International, and 20+ year Professional Member of the National Speakers Association.
Clients include: Deepak Chopra's lecture team; TurboTax's executive sales team; Jones Day lawyers; Olympians; Southwest Airlines; Museum Docents; and the San Diego Zoo.

7 Simple Steps to Business Presentations
Public Speaking Guidebook
This 48-page step-by-step manual provides 21 worksheets, checklists and templates to help you develop, design and deliver a dynamic presentation.
My Learning Objectives (Worksheet)
Ideas! (Worksheet)
Action Plan (Worksheet)
Fearing the Fears
Taming the Stage Fright Tiger
Characteristics of Powerful Presenters (Quiz)
Being Authentic
Planning & Logistics (Worksheets)
Methods of Instruction and Learning
Communication Skills (Assessment)
The Multiple Modalities
My Presentation (Worksheets)
7 Simple Steps to Business Presentations
Creating Effective Openers & Closers (Worksheet)
Using Mind Maps to Get Creative and Brainstorm
Organizing Your Presentation (Template)
Keeping Your Voice Healthy
Handling Question & Answer Sessions
Dealing with Difficult People
Affirmations for Presenters
Media Interview Tips
Crafting An Effective Speaker Introduction (Template)
My Speaker Introduction (Worksheet)
Designing Dynamic Slides
Sparkle When You Speak!™ 70 Tips
Recommended Resources
$59.95
$40.00

Until 09/01/13