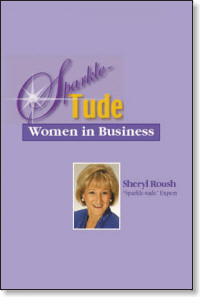 Sparkle-Tude:™ Women in Business - Audio MP3 Download
Attitude-boosting program for entrepreneurs, women in managerial and leadership positions.You will learn:
7 Sparkle-Tude™ Boosters
Tips to deal with difficult people and challenging situations
Spiritual principles of being in business today

Ideas to attract more business authentically
Sheryl Roush, Sparkle-Tude™ Expert
Live presentation, May 2003.
Women in Business Symposium, Del Mar, California
All-time top-rated presentation in the history of the annual event.
Download Size: 2.3 MB
Running Time: 40 minutes
Downloadable Audio Product: Within 24 hours of your order, you will receive a secure link by e-mail to download your audio MP3 file.